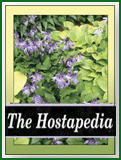 This is a "form" of H. sieboldii from Japan which forms a small size clump of green foliage with a yellow marginal variegation. It bears purple flowers in August.
According to The Hostapedia by Mark Zilis (2009), "...formerly listed as H. sieboldii f. kifukurin..."
Mikiko Lockwood in an article on The Hosta Library titled, A Little About Japanese Hosta Terms defines the term kifukurin or ki fukurin as yellow edge(d) or yellow margin(ed) and the term koba as small leaf, 'Koba Gibōshi' or H. sieboldii.