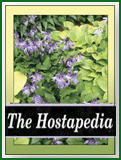 This H. venusta seedling is a non-registered cultivar from Japan. It is a miniature size plant with green leaves that have a yellow marginal variegation. Purple flowers bloom in July.
According to The Hostapedia by Mark Zilis (2009), "...may be the same as 'Orphan Annie'...differs significantly from 'Kinbotan' by having brighter, wider margins."
Mikiko Lockwood in an article on The Hosta Library titled, A Little About Japanese Hosta Terms defines the term kifukurin or ki fukurin as yellow edge(d) or yellow margin(ed) and the term otome as maiden, 'Otome Gibōshi' or H. venusta.