Registered by Peter Ruh of Ohio in 2002 and re-registered with new data in 2018, this large size (22 inches high by 42 inches wide) cultivar is of unidentified parentage and originator from Japan. The foliage is golden-yellow, moderately wavy, moderately folded, slightly corrugated and slightly shiny on top. Its leaf base folds over the top of the petiole. Pale lavender-pink flowers with stripes bloom from late July into August on scapes 21 to 26 inches tall followed by viable seeds.
The registration materials state: "...large, soft yellow clump; lavender-pink flowers with purple-red stamens...obtained from Gotemba Nursery..."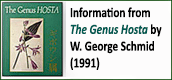 "Plant is a yellow (lutescent) form of H. 'Tokudama' being larger than H. 'Tokudama Golden Medallion'."