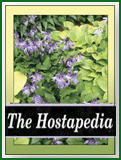 This small size cultivar is "probably" a sport of H. longipes from Japan which was originated by a Kichigoro Suzuki. Its ovate foliage is green with yellow medial (center) variegation and has rich red petioles. Leaves are very shiny underneath, slightly wavy and have heart shaped bases. It has dense clusters of pale purple flowers with purple anthers borne on 20 to 30 inch scapes in August into September.
According to The Hostapedia by Mark Zilis (2009), "...I am quite impressed with this cultivar. The variegation is striking and the rich red petioles add to its beauty."
Mikiko Lockwood in an article on The Hosta Library titled, A Little About Japanese Hosta Terms defines the term -gawa or -kawa as river and the term iwa as rock, Iwa Gibōshi or H. longipes and the term nishiki as brocade (rich-colored woven fabric) i.e. something colorful and beautiful.