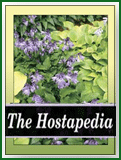 This is a form of the species H. sieboldii from Japan. It is a medium size plant about 13 inches high with a spread of around 29 inches. The light green foliage is heavily streaked with yellow. Its leaves are elliptic to narrowly ovate, wavy and have thin substance. Purple flowers bloom in August.
According to The Hostapedia by Mark Zilis (2009), "There is continuing debate about its differences from 'Inaho'. One may be in anther color. 'Kisuji' bears yellow anthers...while 'Inaho' has been reported to bear purple anthers...also may be the same as...H. tardiva aureo-striata."
Mikiko Lockwood in an article on The Hosta Library titled, A Little About Japanese Hosta Terms defines the term ki as yellow or gold and the term suji as streak or line.