This leaf was incorrectly labeled as 'Kiwi Mini Gold'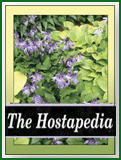 This cultivar of unidentified parentage was registered in 1999 by Barry Sligh in New Zealand as part of his Kiwi Series of hostas. It grows into a small size hosta about 8 inches in height and 22 inches wide. The leaf is ovate with average substance.
According to The Hostapedia by Mark Zilis (2009), "This cultivar is so similar to 'Golden Scepter' that I'm not sure it would pass the "paper bag test". Many years ago, Robert Savory (originator of 'Golden Scepter') told me that if cultivars were distinct, you should be able to put them, unlabeled, into a paper bag (shake vigorously), and then identify them as they are pulled out. If they aren't distinguishable, they aren't worthy of a cultivar name."