This is a form of H. longipes from Japan. It forms a small size plant with very wavy green foliage that has a white medial (center) variegation. It has dense clusters of pale purple flowers borne on 20 to 30 inch scapes in August into September.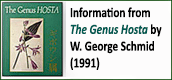 "Plant is a small hybrid with H. longipes parentage. Ovate leaves, truncate base, center clear yellow or whitish yellow, margin narrow, green, and occasionally green streaks into center. Variegation stable."
Mikiko Lockwood in an article on The Hosta Library titled, A Little About Japanese Hosta Terms defines the term nishiki as brocade (rich-colored woven fabric) i.e. something colorful and beautiful.