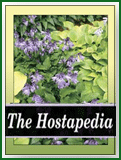 A medium size (14 inches high by 26 inches wide) hosta, this cultivar of unidentified parentage was registered in 1995 by Peter Ruh of Ohio on behalf of the originator, Lucille Simpers from Indiana. The foliage is medium green, slightly wavy and ovate in shape. Medium purple flowers bloom in August on scapes about 26 inches tall.
According to The Hostapedia by Mark Zilis (2009), "...flowering is the most significant feature...produced in large numbers on one side of each scape..."

This cultivar was also once known as H. 'Wanda'.