A sport of H. 'Saishu Jima', this cultivar was registered by Dr. Ralph (Herb) Benedict of Michigan in 1986. It grows into a miniature size hosta up to 4 inches high with a spread of 10 inches with wavy leaves. Pale purple flowers bloom in August followed by viable seeds.
The New Encyclopedia of Hostas by Diana Grenfell (2009) states in its Miniature Hostas chapter: "Keep potted until the root system is fully established, then plant in a larger container, rock garden, or gravel garden. An excellent breeding plant."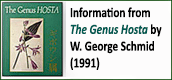 "Plants of similar form have been found in Japan and given the names H. 'Tsugaru Komachi' and H. 'Tsugaru Nishiki'...Another Japanese sport arising from H. sieboldii (the parent of H. 'Saishu Jima') is called H. 'Shima Kabitan'...This plant arose independently in the United States and is erect."
Mikiko Lockwood in an article on The Hosta Library titled, A Little About Japanese Hosta Terms defines the term nishiki as brocade (rich-colored woven fabric) i.e. something colorful and beautiful and the term komachi as a beauty or a belle.