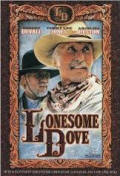 Registered by Hans Hansen and Shady Oaks Nursery of Minnesota in 2005, this cultivar is a seedling of (a seedling of H. 'Splish Splash' × H. 'Sagae') x H. 'Blue Moon'. It was granted a U.S. patent in 2006. This hosta is a medium size plant with an upright growth habit. Pale lavender flowers bloom in July on scapes up to 18 inches tall.
The New Encyclopedia of Hostas by Diana Grenfell (2009) states: "Avoid planting under tree canopies as falling debris collects in and damages the deeply cupped leaves. Lovely with ferns and other lacy foliage. Divide frequently...The flower has a darker lavender pattern on the petal center."




United States Patent: PP17294 (2006)

Abstract: A new cultivar of Hosta named 'Lonesome Dove', that is characterized by its variegated foliage with glaucous green margins comprising about two thirds of the leaf area and creamy white centers that are primarily ovate in shape with additional areas radiating from the base of the leaf. An intermediate lighter green area occurs between the boundaries of the margins and centers and also radiating out from the leaf base. 'Lonesome Dove' is a medium sized Hosta with an upright mounded plant habit that blooms in mid summer with lavender flowers that that are held above the foliage on erect scapes.