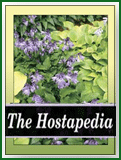 This cultivar is a sport of H. 'Mighty Mouse' which was discovered by Maria Martinez and registered by Walters Gardens, Inc. of Michigan in 2013. It is a small size plant which grows to about 7 inches in height with a spread of around 14 inches. The slightly blue-green foliage has a wide, creamy white marginal variegation. Its leaves are broadly ovate, intensely wavy and dull on top. The medium lavender, bell-shaped flowers bloom from June into July.
According to The Hostapedia by Mark Zilis (2009), "...have not seen in a collection or garden; not available for sale; may no longer exist."

Obviously a hosta by this name exists since it was registered in 2013. (Or, it is probably a totally different plant from the one mentioned by Zilis.)



United States Patent: PP26743 (2016)

Abstract: A new and distinct Hosta plant named 'Mini Skirt' with coarsely-sinuate cordate leaf blades having variegation of creamy yellow to creamy white margins and dark green center and feathering intermediate colors. The plant habit is short, compact and rounded with flowering just above foliage, and the leaves and scapes are thick substance and stiff.