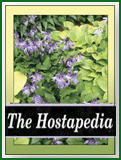 Originated in Japan, this non-registered cultivar is of unidentified parentage but has H. ventricosa in its background. The medium size hosta has green foliage that is slightly wavy and shiny. Semi-bell shape, purple flowers bloom in July on scapes about 25 inches tall followed by seed pods.

According to The Hostapedia by Mark Zilis (2009), "...probably a seedling of Hosta ventricosa. The flowers are similar to the species, but they are not quite as bell-shaped."

Mikiko Lockwood in an article on The Hosta Library titled, A Little About Japanese Hosta Terms defines the term murasaki as purple.