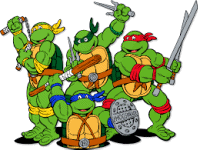 This cultivar is "believed" to be a sport of H. ventricosa was originated by Bill Janssen of Collector's Nursery in Washington and registered on his behalf of Kevin Walek (Hosta Registrar) in 2009. It is a miniature size (4 inches high by 5 inches wide) plant with shiny dark green foliage that has yellow and light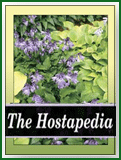 green streaked variegation. The leaves are distorted, unruly, heavily rippled and shiny on top. It bears dark purple, bell-shaped flowers in July.
According to The Hostapedia by Mark Zilis (2009), "Leaves of 'Mutant Ninja' displayed at the 1996 National Convention of The American Hosta Society caught everyone's attention. None of us had ever seen its type of variegation. The irregular, "banded" variegation did not fit any conventional color category...The effect is diminished in the garden,..."