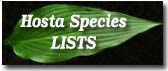 Hosta montana is a species that is found throughout its native Japan where it is called Hosta 'Oga Giboshi'. Liberty Hyde Bailey originally named the plant H. fortunei var gigantea.
This species forms a large (28 inches high), vase-shaped mound of medium green foliage that is deeply veined, moderately wavy with a moderately lobed leaf base.
One of the unique characteristics is that the flower bud itself looks like a flower. It has open funnel shaped, very pale lavender flowers with bracts on the flower scape after the flower opens.
Plants of this species also tend to emerge early in the spring and are often susceptible to damage from frosts if not protected.
There seems to be a lot of variation within this species and The Hosta Handbook by Mark Zilis (2000) divided the species into six groups:
1. Hosta montana - the "typical" green-leaved species;
2. Hosta montana 'Aureomarginata' - Yellow margined
3. Hosta montana 'Mountain Snow' - White margined
4. Hosta montana 'Choko Nishiki' - Gold centered
5. Hosta montana 'Emma Foster' - Gold leaf
6. Hosta montana macrophylla
According to The Hostapedia by Mark Zilis (2009), "Of the four most common species in Japan (Hosta sieboldii, Hosta kikutii and Hosta longipes being the others), Hosta montana is the most consistent...has proven to be a valuable breeding plant and is the source of several significant mutations."