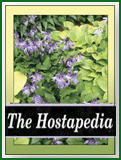 This non-registered hosta from Japan is a form of H. 'Sagae'. It becomes a medium size hosta with viridescent foliage that changes from gold to green as the season progresses. Pale lavender flowers bloom from mid-July into August.
According to The Hostapedia by Mark Zilis (2009), "H. 'Gold Sagae' = H. 'Ogon Sagae'.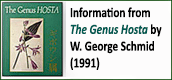 "Plant is a Japanese cultivar similar to H. 'Sagae' with yellow, not variegated leaves. It probably is a seedling or sport of the latter."