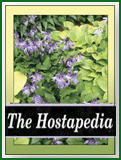 This cultivar of unidentified parentage was originated in Japan but was registered by Peter Ruh of Ohio in 2002 and re-registered with new data in 2018. It forms a medium size mound about 12 inches high with a spread of around 22 inches. The lanceolate foliage is green to yellow gold in color and is slightly rippled, slightly folded, moderately wavy and moderately flat with a reddish colored base to the petioles. It has thin substance. Lavender-purple, striped flowers bloom on scapes 28 to 30 inches tall from July into August followed by viable seeds. The pods are light green striped and reddish purple.
T

he registration materials state: "...fast multiplier; clear yellow-gold greenish cast..."
According to The Hostapedia by Mark Zilis (2009), "...also been known as 'Gold Tsushima' and 'Golden Tsushimensis', but those should only be considered common names."
The New Encyclopedia of Hostas by Diana Grenfell (2009) states in its Hosta Hybrids for Connoisseurs chapter: "Still rare in cultivation."
Mikiko Lockwood in an article on The Hosta Library titled, A Little About Japanese Hosta Terms defines the term ogon or oogon as gold or yellow.

This cultivar was originally registered as a seedling of H. tsushimensis but was changed to Parentage Unknown in 2018.