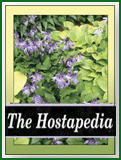 Alex Malloy of New York registered this sport of H. 'Outer Limits' in 2003. The small size plant is about 10 inches high by 15 inches wide with light green foliage and a white marginal variegation. Its leaves are deeply cupped, heavily puckered, heavily corrugated, ovate and dull on top. Pale lavender, tubular flowers bloom in July. It does not set seeds.
According to The Hostapedia by Mark Zilis (2009), "...a chimeral reversal of 'Outer Limits'. Its seasonal color differences vary from plant to plant."

This cultivar won the 2003 Frances Williams Award at the First Look hosta competition as the best sport as chosen by the Attendees.