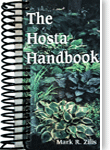 This plant of unidentified parentage was registered by Gerald Williams of Minnesota in 1996. It forms a medium size (16 inches high by 30 inches wide), semi-upright mound of foliage with a thin white marginal variegation. The very narrowly ovate leaves are very wavy and fold upwards. It has medium lavender flowers on reddish stems from late July into August but it does not set seeds.
According to The Hosta Handbook by Mark Zilis (2000),"...one of the weirdest cultivar introductions in many years; exact origin unknown, but most likely a sport of some Fortunei'..."

From the Field Guide to Hostas by Mark Zilis (2014), "...has earned the reputation of being one of the most unusual of all hosta cultivars."
The New Encyclopedia of Hostas by Diana Grenfell (2009) states: "Grow at eye level to get the best effect from the unusual leaf habit. Plant with a collection of ferns or small hostas with contrasting, hear-shaped leaves. Not just an interesting hosta but an unusual and interesting foliage plant."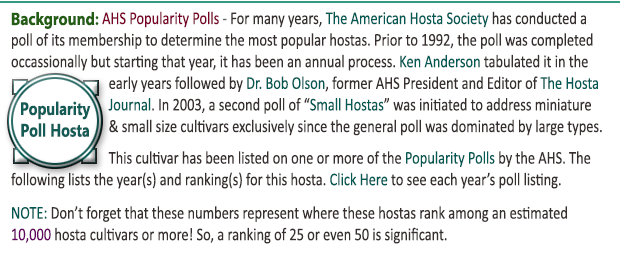 8
15.8

2008 #24
2009 #20
2010 #6
2011 #17
2012 #16
2014 #14
2015 #13
2016 #16