Registered by Mary Jo Duncan of Minnesota in 2016, this upright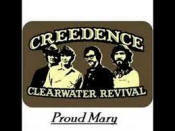 growing, large size (25 inches high by 40 inches wide) cultivar is of unidentified parentage. The dark green foliage is heavily rippled, deeply wavy and slightly shiny on top. Flowers with soft striping bloom from mid-July into August on scapes up to 38 inches tall.
The registration materials state: "Dark green, shiny, deeply ribbed leaves that flow as if from a fountain. It stands Proud!"

Hosta Helper will call this plant H. 'Proud Mary' (Duncan)