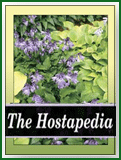 Originated by and registered on his behalf by Registrar, Gayle Hatley Alley for The American Hosta Society in 2019, this large size (18 inches high by 38 inches wide) hosta is of unidentified parentage. The leaves are greyish olive green (NN137A RHS Colour Chart), broadly ovate, slightly shiny on top, slightly folded and moderately corrugated overall. Near white flowers with pale lavender stripes bloom from mid-June into July on scapes up to 28 inches tall followed by viable seeds.
The registration materials state: "...Appropriate name that describes this ruffled & corrugated plant very well...Leaves emerge matte turning shiny by July."
According to The Hostapedia by Mark Zilis (2009), "With its propensity to form many seed pods and good genetic traits, it should make a good breeding plant."