This is an old, non-registered cultivar that is found in two forms in the nursery trade. One form has H.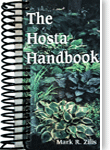 nakaiana in its background and forms a mound about 10 inches high with a spread of 30 inches. It has ovate shaped, slightly wavy foliage that has a smooth texture and average substance. The pale purple flowers bloom starting in late June.
According to The Hosta Handbook by Mark Zilis (2000), "The more commonly grown form is related to H. nakaiana and described here."
Hosta Helper will call this plant 'Rock Princess' (Larger Type)