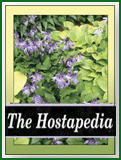 A seedling of H. 'Dorothy Benedict', this cultivar was registered by Dr. Ralph (Herb) Benedict of Michigan and Bob Kuk of Kuk's Forest in Ohio in 2006. This medium to large size plant has slightly rippled, moderately corrugated foliage with thin substance. It produces very pale lavender flowers starting in late June.
According to The Hostapedia by Mark Zilis (2009), "...has the look of a H. 'Sieboldiana'-type with wide margins that do not develop spring desiccation burn. This cultivar was named after Bob Kuk's aunt who got him interested in hostas..."
Similar cultivars include H. 'Tokudama Flavocircinalis'.