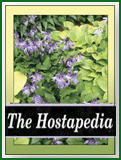 This sport of a yellow seedling, this cultivar was registered by Robert Savory of Savory's Gardens in Minnesota in 1985. It forms a medium to large size mound with broadly ovate leaves that are moderately corrugated and have good substance. Pale lavender flowers bloom in July on 3 foot tall scapes.
According to The Hostapedia by Mark Zilis (2009), "...exemplifies the difference between juvenile and mature plants...appears to be a medium-size, 'Fortunei' type with a fairly fast growth rate and midsummer flowering. Mature specimens growing at Savory's Gardens, however, display larger, broader foliage with wider gold margins and could easily be mistaken for a gold-edged H. 'Sieboldiana'-type."
Similar cultivars include H. 'A Many-splendored Thing'.
Sports include H. 'Straight Flush'.