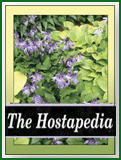 Dr. Dick and Jane Ward of Ohio registered this cultivar in 1999 as a seedling of H. 'Iwa'. The plant grows into a medium size hosta about 16 inches high an 30 inches wide with shiny, slightly rippled, smooth texture leaves that have purplish red petioles. Its medium purple flowers bloom in September on 18 inch tall scapes.
According to The Hostapedia by Mark Zilis (2009), "...bears attractive red petioles and late-season flowers like many other H. longipes types."
Similar species or cultivars include H. longipes hypoglauca and H. 'Strawberry Delight'.