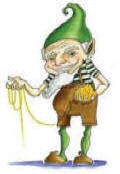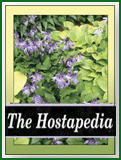 Originated by Robert Savory of Savory's Gardens in Minnesota and registered by his son, Dennis Savory in 1997, this cultivar is a seedling of H. 'Vilmoriniana'. It has dark green foliage that has a lighter green marginal variegation. The plant is medium size growing to a height of 16 inches with a spread of 38 inches. Pale purple, tubular flowers bloom in July and sets viable seeds.
According to The Hostapedia by Mark Zilis (2009), "The lighter edge...is not variegation, but a lightening of the margin. Most likely it develops due to environmental conditions, and it certainly does not add any ornamental value to the plant."

Do not confuse this cultivar with a German plant called H. ''Rumpelstilzchen'.