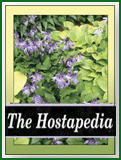 This seedling of unidentified parentage was originated by Mildred Seaver of Massachusetts and registered in 2009 on her behalf by Kevin Walek (Hosta Registrar). It is a medium size hosta with intensely blue-green foliage that is heavily corrugated, broadly ovate and has glaucous bloom on top. Near white flowers bloom from late June into July.
According to The Hostapedia by Mark Zilis (2009), "This ranks highly among Mildred Seaver's blue-leaved cultivars."
Similar cultivars include H. 'Big Daddy', H. 'Sea Lotus Leaf' and H. 'Tokudama'.