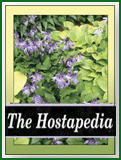 Part of the "Sea Series" of hostas, this plant was registered by Mildred Seaver of Massachusetts in 1985. It is a stable sport of H. 'Sea Sunrise' that forms a medium size (15 inches high) mound of moderately wavy, slightly corrugated foliage. Pale lavender flowers bloom in July.

According to The Hostapedia by Mark Zilis (2009), "I consider this one of Mildred Seaver's "lesser" introductions."
Similar cultivars include H. 'Winfield Gold'. Sports include H. 'Laura Lanier'.