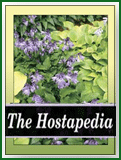 This stabilized sport of a H. 'Sea Prize' seedling was registered by Randy Goodwin of Indiana in 2005. A small size (8 inches high by 12 inches wide) plant, it has heart shaped foliage that is slightly corrugated and cupped. Its lavender flowers bloom in July followed by viable seeds.

According to The Hostapedia by Mark Zilis (2009), "...makes an excellent low edging plant."
The New Encyclopedia of Hostas by Diana Grenfell (2009) states: "Plant in a rock garden or raised bed with any of the more vigorous very-small leaved or miniature hostas, such as H. 'Popo', as a color contrast...An outstanding recent introduction for the smaller garden...The virtually round leaves with their attractive contrasting leaf margins."