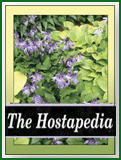 This cultivar of unidentified parentage was originated by Paul Aden of New York and registered on his behalf by Rod Kuenster and The American Hosta Society in 2010.
It is a large size hosta about 20 inches high by 49 inches wide with green foliage that has yellow and white streaked variegation. The broadly ovate leaves are slightly wavy, slightly corrugated and slightly shiny on top. Pale lavender flowers bloom in August on scapes 18 to 22 inches tall followed by viable seeds in slightly streaked pods.
The registration materials state: "...streaked plant with white and yellow that gives viable seed
According to The Hostapedia by Mark Zilis (2009), "...very few accurate examples of 'Shenanigans' are left in American gardens."