This is a seedling of H. 'Alba' is a non-registered cultivar from Japan. It forms a small size plant of green foliage with white flowers that have deeply cut petals.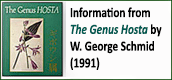 "Shirobana Kika Koba Gibōshi, the "white-flowered, strange, small-leaved hosta." An unusual sport with an unstable number of petals (4 to 6) and pure white flowers. Anthers project before flower opens."
Mikiko Lockwood in an article on The Hosta Library titled, A Little About Japanese Hosta Terms defines the term koba as small leaf, 'Koba Gibōshi' or H. sieboldii and the term shirobana as white flower.