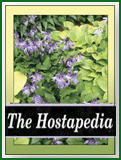 Robyn Duback registered this cultivar with H. 'Sieboldiana' in its background in 1998. It grows to around 20 inches in height and 4 feet wide. The leaves are broadly ovate, cupped and have thick substance. Its near white flowers bloom from late June.
According to The Hostapedia by Mark Zilis (2009), "It has grown larger than her The American Hosta Society registration lists, so I'm not sure of its ultimate size."

Skookumchuck is a word from the language of the Chinook tribe of native Americans. The first part, "Skookum" means strong or powerful while the ending "chuck" means water. So, it is in reference to some type of powerful water especially the tidal rapids at the mouths of rivers that dump into the Pacific Ocean. The Skookumchuck River is in Washington state.