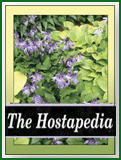 A cultivar from Dr. Ralph (Herb) Benedict of Michigan, this seedling selection of unidentified parentage was registered by Rod Kuenster of Iowa in 2010. It grows into a miniature size hosta about 4 inches high and 12 inches wide with medium blue-green foliage. The leaves are lanceolate, slightly twisted, slightly wavy and dull to glaucous on top. Medium purple flowers bloom from mid-July into August.

According to The Hostapedia by Mark Zilis (2009), "...appears to have a H. longipes background, possibly being out of 'Maruba Iwa'."

We wonder if this cultivar was named after the drink called the "Slurpee"...or after something else.