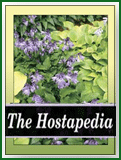 The American Hosta Society registered this plant on behalf of the originator, Frances Williams of Massachusetts in 1986. This plant and H. 'Lavender Lady' came out of the same seed crop of a cross between H. sieboldii × H. plantaginea that she made around 1948, according to The Hostapedia by Mark Zilis (2009).
A medium size (14 inches high) mound of elliptic shaped, smooth textured foliage, this cultivar has funnel shaped, pure white flowers in August.
Similar cultivars include Hosta sieboldii 'Alba', H. 'Snow Mound' and H. 'White Mule'.