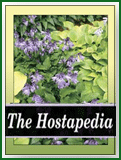 Registered by Peter Ruh of Ohio on behalf of the originator, Lucille Simpers of Indiana in 1991, this is a cross of H. 'Blue Beauty' × H. 'Blue Boy'. It forms a large size (22 inches high by 51 inches wide) mound of ovate shaped, moderately corrugated foliage with thick substance. The pale lavender flowers bloom from late June to mid-July followed by viable seeds.
According to The Hostapedia by Mark Zilis (2009), "The parentage of 'Something Blue' equates to about 75% H. 'Sieboldiana', 25% H. nakaiana, and its characteristics

certainly bear that out. The thick, slug resistant foliage appears H. 'Sieboldiana' like, but the little smaller, while the flowers more closely resemble H. nakaiana. The intensity of the blue foliage color is impressive."
The New Encyclopedia of Hostas by Diana Grenfell (2009) states: "Increases more rapidly than many similar blue-leaved hostas."