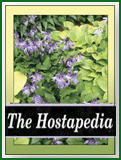 Originated by David Stone of Connecticut but registered on his behalf by Peter and Jean Ruh of Ohio in 2004 this slow growing, medium size (11 inches high by 21 inches wide) hosta is of unidentified parentage. Its yellow green foliage is slightly rippled, slightly wavy, ovate and dull on top. It bears tubular shaped flowers.
The registration information states that it has green veins.
According to The Hostapedia by Mark Zilis (2009), "...I found it to be identical to 'Piedmont Gold'..."