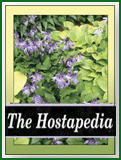 This is "possibly" a seedling of H. gracillima x H. venusta which was registered by Briggs Nursery of Washington in 1987. It is a small size hosta about 7 inches high with a spread of around 16 inches. The leaves are dark green, heavily rippled and very narrowly elliptic in shape. Its medium purple flowers bloom in August.
According to The Hostapedia by Mark Zilis (2009), "It becomes a very dense mound of heavily rippled, dark green foliage that could be useful as a low edger or in troughs."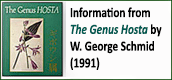 "Plant is a selected form of H. gracillima, usually not growing to the size specified in the registration documents."