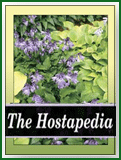 This cultivar is listed as a "probable" hybrid of Hosta sieboldii 'Alba' × H. plantaginea which was introduced by Frances Williams of Massachusetts in the 1950s and registered by The American Hosta Society in her behalf in 1986.
The small size (10 inches high) mound has shiny green foliage with broadly elliptic shaped leaves that are very shiny on the underside. From mid-August to early September, it bears lavender flowers.
According to The Hostapedia by Mark Zilis (2009), "This cultivar has become exceedingly rare. Most plants now offered under this name are a green-leaved 'Fortunei' type, and are not the true 'Surprise'."