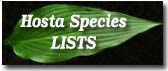 This is another Japanese species that has a long history and which has had several different names. It is a small sized (13 inches high) plant that forms a dense mound of elliptic to narrowly ovate shaped foliage. The leaves are slightly wavy, have smooth texture and thin substance. It produces funnel shaped, medium purple flowers in August.
According to Zilis (2000), this plant has also been known as either Hosta albomarginata or Hosta lancifolia albomarginata in the past.
The Hostapedia by Mark Zilis (2009), states, "Unfortunately, it was designated as a species in 1838 and serves as the type for a large taxonomic group of hostas (Schmid 1991, p. 99). For this reason, George Schmid chose not to reclassify Hosta sieboldii as a cultivar. Instead, the green-leaved form found in the wild was designated a form of the species i.e., Hosta sieboldii f. spathulata (ibid, p. 104)."
The species is named for famed plant explorer, Philip von Siebold.