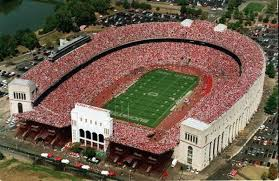 Registered by Dr. Doug and Mardy Beilstein of Ohio in 2018, this upright growing cultivar is a large size (28 inches high by 45 inches wide) seedling of H. 'Brutus' × H. 'Abiqua Recluse'. Its blue-green foliage is nearly round, heavily cupped, folded, heavily corrugated and dull on top. Pale lavender flowers bloom from June into July on scapes 36 to 38 inches tall followed by viable seeds.
The registration materials state: "...Captures characteristics from both parents. Large clump size and very corrugated, very cupped leaves resemble Brutus' home stadium filled with cheering fans."

The Horseshoe is the nickname of the football stadium at The Ohio State University.