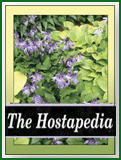 This cultivar was originated by Beverly and Dave Stegeman of Indiana and registered by J. Hack of Indiana in 2006. It is the result of a cross of H. 'One Man's Treasure' × H. 'Squash Casserole' that forms a small size mound about 8 inches tall with a spread of 20 inches. The foliage is oblong to ovate with moderately rippled margins, red petioles, slightly lobed bases and long, thin curved tips. Deep reddish purple flowers with pink tepals bloom from late August into September.

According to The Hostapedia by Mark Zilis (2009), "...shows very attractive reddish floral bracts in beautiful contrast to the gold foliage."
The Book of Little Hostas by Kathy and Michael Shadrack (2010) says: "This plant needs plenty of sun to produce that bright yellow coloration and bring out the red in the petioles and leaves. Will look good in a container or trough."