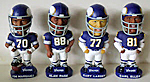 Originated by Uniquely Hostas in Wisconsin, this non-registered cultivar of unidentified parentage.
Uniquely Hostas says, "Hosta Purple People Eater is a nod to the famous defensive line of the Minnesota Vikings from the late 1960s to the late 1970s. A nice hosta with a purple blush in the spring!"

Purple People Eaters was originally a novelty song by Sheb Wooley.