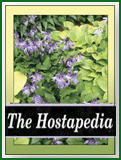 This sport of an unnamed hosta is a non-registered cultivar from Bill Meyer of New Jersey. It was given a U.S. Patent in 2013. The medium size (12 inches high by 33 inches wide) plant has narrowly elliptic, very wavy foliage. It bears white flowers in clusters on scapes about 15 inches tall and the petals have purple stripes. (see picture below).
According to The Hostapedia by Mark Zilis (2009), "...found by Bill Meyer, who recently theorized that 'Leola Fraim' might be its mother plant. Its extreme waviness puts it into a class of very unusual hosta sports."

'Wheee!" is not a registered hosta. However, since its name is well established in the commercial trade, the Hosta Registrar has declared that the name is Not Available for Registration by any other plant. It is part of the SHADOWLAND group of hostas from Walters Gardens, Inc. and was also named the Proven Winners ® Hosta of the Year for 2021.
This cultivar also won the 2004 Kevin Vaughn Award at the First Look hosta competition as the best sport as chosen by the AHS Judges. It also won Frances Williams Award at the First Look hosta competition as the best sport as chosen by the Attendees.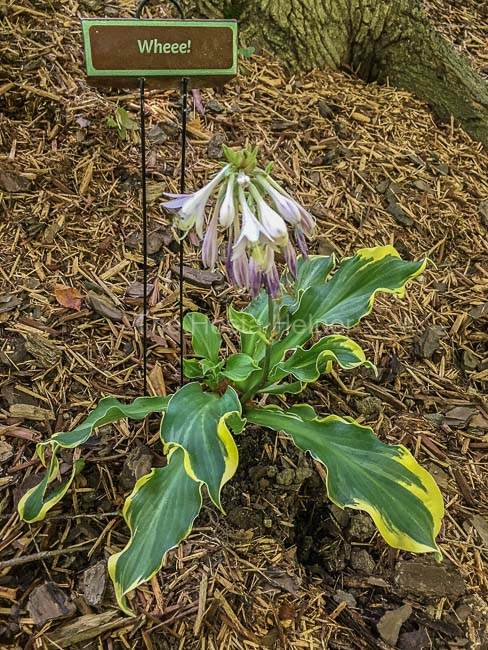 United States Patent: PP23565 (2013)

Abstract: A new and distinct Hosta plant named 'Wheee!' characterized by light lavender flowers on strong erect scapes over broadly horizontal mounds of intensely-sinuate elliptic leaves having yellow margins, leaf blade centers of light green. Hosta 'Wheee!' emerges in the spring with distinct, broad, intensely-sinuate bracts or intermediate leaves partially clasping and surrounding emerging shoots, petioles and expanding leaves.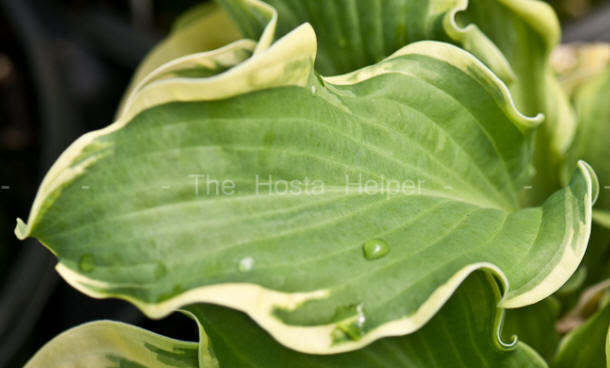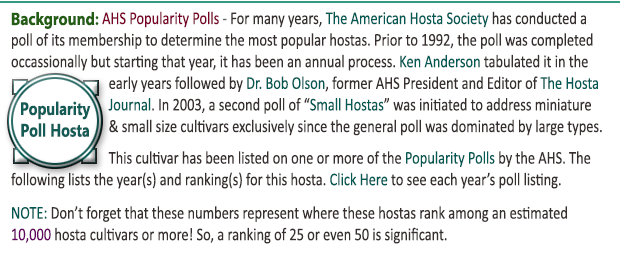 3
12.6

| | | | | |
| --- | --- | --- | --- | --- |
| 2018 #11 | 2019 #8 | 2020 #19 | | |