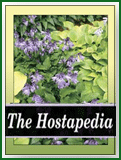 A seedling of H. 'Sea Prize', this cultivar was registered by Dr. Ed Elslager of Michigan in 1999. It is a small size plant with gold foliage which bears lavender flowers in July.
According to The Hostapedia by Mark Zilis (2009), "The plant currently being offered on the retail market is not this version of 'Wildfire', but Herb Benedict's plant."

Zilis is referring to H. 'Benedict's Wild Fire'. Its name was changed from 'Wildfire' and registered in 2010 after the publication of The Hostapedia.