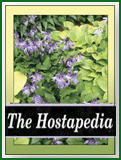 Registered by The American Hosta Society in 1986, this cultivar starts a bright yellow in the spring and then changes to chartreuse by fall.
According to The Hostapedia by Mark Zilis (2009), this cultivar was "...imported from Japan in the 1960's."
This cultivar was also known as H. 'Summers No. 210' and Zilis (2009) says it was "...(obtained in 1967 from Harold Epstein of New York)"