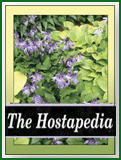 Originated in Japan, this non-registered cultivar is of unidentified parentage. It is a miniature size hosta with green wavy foliage. Hostasearch.com says, "Similar to H. 'Yakushima Mizu', the leaves are broader and is a more robust grower. Rare, for the collectors."
According to The Hostapedia by Mark Zilis (2009), "This name usually refers to 'Yakushima Mizu'..."
Mikiko Lockwood in an article on The Hosta Library titled, A Little About Japanese Hosta Terms defines the term mizu as water, 'Mizu Gibōshi' or H. longissima.