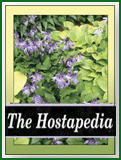 Stuart Asch of Michigan registered this seedling of H. 'Gold Standard' in 2003. It is a medium size plant about 13 inches high with a spread of around 30 inches. The bright gold foliage is slightly rippled. Very pale lavender flowers bloom from mid-July into August.
According to The Hostapedia by Mark Zilis (2009), "...has the distinction of being the only listed seedling out of 'Gold Standard'. The latter has proven to be nearly sterile, rarely forming seed pods."
The originator made the following comment on the Fraternal Order of Seedy Fellows website: "This hosta is a sentimental favorite of mine as it comes from the sterile 'Gold Standard', a plant introduced by my mentor Pauline Banyai. Bright gold/yellow leaves are in abundance especially in mid July when the white flowers flourish. The second flush of flowers also gives a wonderful contrast of colors especially when lavender flowers are in bloom. The petioles are quite erect."