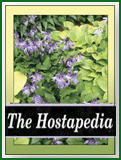 Originated in Japan, this non-registered cultivar is of unidentified parentage.
According to The Hostapedia by Mark Zilis (2009), "...described as having green-spotted leaves in early spring, turning green by mid-spring..."
The Genus Hosta by W. George Schmid (1991) says, "Nokon No Yuki Gibōshi, the "lingering snow hosta" is a mosaic mutant form with snow-flurry form variegation."

There is also a Sacred Lily (Rohdea japonica) named 'Zansetsu'.