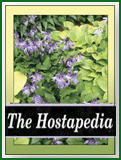 Originated in Japan, this cultivar is a seedling of H. rectifolia × H. nigrescens or H. rectifolia × H. 'Tokudama'. It is a large size hosta with rich blue-green foliage and an upright growth habit. The leaves are ovate, slightly wavy and have smooth texture. It bears lavender flowers on very tall scapes.

According to The Hostapedia by Mark Zilis (2009), "...known as 'Krossa Regal' in the U.S."

Mikiko Lockwood in an article on The Hosta Library titled, A Little About Japanese Hosta Terms defines the term ginba as silver (white) leaf.