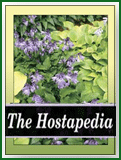 This H. 'Dorothy Benedict' sport was registered by Dr. Ralph (Herb) Benedict of Michigan in 1986. It has broadly ovate leaves that are deeply lobed at the base and have thick substance. The near white flowers bloom from late June.
According to The Hostapedia by Mark Zilis (2009), "...in the 1980s this cultivar was know as 'Lucky Fifty' (or 'Lucky 50')."
Similar cultivars include H. 'Clarence Nance', H. 'Grandma Burns' and H. 'Northern Halo'.