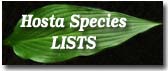 If you have a large, bluish green, mound forming hosta, odds are that it has the species, Hosta sieboldiana, somewhere in its history. Perhaps the classic of this type is Hosta sieboldiana 'Elegans' which has been around for many decades.
The average large sized mound of this species will be about 24 inches high and over 60 inches wide at maturity. They will have near white flowers with a pale lavender mid-tepal stripe in late June to mid July. The leaves are broadly ovate, with thick substance and are heavily corrugated. The foliage is blue-green in the spring due to a waxy cover on the leaf. This usually melts away as the summer progresses resulting in a green colored leaf by fall.
According to The Hosta Handbook by Mark Zilis (2000) there is some confusion about the actual characteristics of this species. The true species forms that he has observed do not always conform to those of Hosta sieboldiana 'Elegans'. The true species types have less corrugation in the leaves, are not as blue and form clusters of flowers that are less dense than Hosta sieboldiana 'Elegans'.
According to The Hostapedia by Mark Zilis (2009), "The true Hosta sieboldiana is uncommon in hosta collections and nurseries. Most plants with this label are actually green-leaved seedlings of H. sieboldiana 'Elegans' and are not the true species...I attempted to find H. sieboldiana in the wild or wild-collected specimens. No collector I encountered had ever seen it...Even veteran plant-hunters, who had found hundreds of other unusual hostas in the wild, had never seen it."
W. George Schmid, author of The Genus Hosta (1991), wrote an article for The Hosta Journal (online version) in which he proposed that the plant that has been called a species, Hosta sieboldiana, should probably be more correctly called a cultivar, Hosta 'Sieboldiana'. He made this statement under the premise that no "wild" population of the species is known.
At the January 19, 2013 Hosta Scientific Meeting in Lisle, Illinois, Mark Zilis said that Japanese plant collectors believe that they have found plants of the species, Hosta sieboldiana, in a remote part of one of the Japanese islands. He said that the discovery is yet to be scientifically confirmed but he hoped that a more definitive declaration would be coming in a year or two.
The species is named for famed plant explorer, Philip von Siebold.
"H. 'Cucullata' = Hosta sieboldiana" - Also, this may have been sold as Mackwoods No. 1 at one time.

So, it sounds as if, when someone talks about a "Sieboldiana" type hostas, they are really talking about Hosta sieboldiana 'Elegans' and its many, many seedlings and sports.